Coyote Wild
Magazine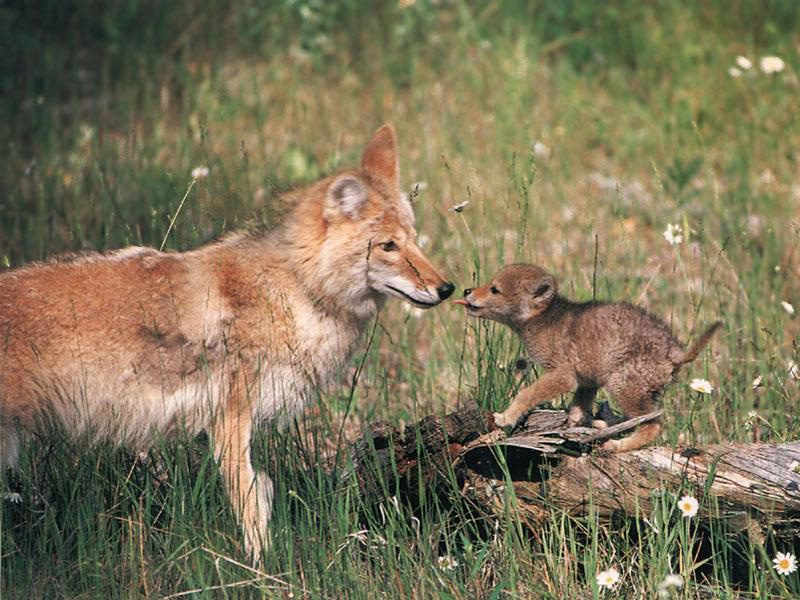 June 2008 Volume Two Issue Four
Sea Green Eyes - David McGillveray
Magda awoke on the soft bed of his lips for the last time. She lay for long minutes, luxuriating in the warming sighs of his breath and looking up at the sky and the wheeling gulls. Then she rose and climbed the fresh bristles of his beard towards his left eye, an eye of purest sea green. She kissed a dozen kisses in the shape of a heart on his eyelid, as she always did. There were tears in her own eyes.
"A last farewell, my love," she said, voice breaking. She placed her hands flat on his skin, felt the gargantuan pulse of his blood. "My sweetest Ox."
He blinked, a vast shutter covering the great eye for a moment, and she knew he understood.
Magda was sure that in his own way, Ox too had known this time would come. They were both unable to deny the cruel cycle that bound them together. Perhaps it was that realisation that caused the tear to well in his eye all those months ago, or perhaps it was simple, overwhelming biology. The tear had rolled down his cheek to where she waited full of overpowering thirsts, and she had drank of it and fallen pregnant. This was the path set out for her, for both of them, for all couples on the sea. Now she had to leave him.
She scaled the steep incline of his forehead, careful of her swollen belly, and entered the forest of his hair. There she took the few things she had set aside for her journey; a parcel of dried fish, a comb, a precious compass she had kept since childhood. She kept her breath even, fought the blurring in her eyes, the shaking of her hands. Twin impossible urges pulled at her heart, the urge to stay and the urge to go. She felt the kick inside her then and knew it was not her choice to make.
She lowered herself down the thick strand of hair she had knotted into a rope towards where her boat dipped in the swell about Ox's neck. She threw her pack before her and stepped in afterwards. Then she raised the patchwork sail and pointed the prow towards the horizon, in the direction she had last travelled from as a bride barely budding into puberty. She had wept then as well.
The island of his head receded with distance and was finally lost among the whitecaps. Magda felt as empty as the horizon as she fought with the rigging. The child was heavy inside her.
With every moment, the meaning in her life seemed to slip further away. She grasped at her memories: the long dive from the tip of his nose, the rush of impact, the smooth cliff of his chest translucent in the water. She used to swim downward into darkness until the pressure threatened to burst her lungs, down into the immeasurable depths where his feet were rooted forever in the bedrock of the world. She sat in the shell of his ear and dangled her legs. She spent days cutting his beard with shears and scraping barnacles from his neck. She cleared out the gulls' nests from his hair and swept the salt from his skin.
Servitude? No. It was devotion. She had been very young when she was sent to be Ox's new bride, and full of terror at this monstrous _man_ she must love. What could he do except look out to sea, wordless and immobile, helpless but invulnerable? He was cursed, she knew, but in time she felt as if she had been blessed. She felt the warmth of him at night. She saw the depth of years in his eyes and her heart ached as she looked into his abyssal soul. She knew he understood when she whispered standing in his ear. And she loved the way his lips would twitch ever so lightly into a smile when she sang to him. Magda found something with Ox that she had never had in the girl-creches of her short childhood. She found love, and was returned in psychic waves that were almost physical.
But the cycle turned as it always had. A child could not be born at sea or on the island of her father, so she had been taught.
Magda was exhausted by the middle of the day. She paused only to eat and to attend to nature while her little boat rocked in the swell. The she went on.
By mid-afternoon, the cries of gulls had grown louder and they became more numerous in the sky. Magda squinted into the distance. She saw the island where she had been born, a single mountain dressed in green and purple forests, skirted by beaches of fine black sand and protected by reefs that kept the shallow water near the shore blue as lightning. It had been so long. A shiver of trepidation ran through her, a fear of finality. But the child kicked again and she tightened the sail. They would care for her daughter there. This was Jubé, the Isle of Women.
The hull scraped on black sand and Magda climbed from the boat and dragged it further up the beach, one hand clasped under her stomach. Three figures dressed in white approached, feet splashing in the surf. Exhausted and with nothing to guide her, Magda watched them come and let the fine sand sift between her toes.
They seemed a little older than her, but still little more than girls themselves. They wore their hair long and twisted into strands hung with yellow flowers. Their skins were three differing shades of brown, offset by white sarongs and blouses that clung to lines that only health and happiness could form. Their eyes were brown and clear, their limbs straight and their faces open.
"Welcome, mother and child," said the tallest of the three, stopping a few paces from where Magda stood. "I am Helena, and these are my sisters, Elena and Lena."
"I am Magda."
Helena smiled. "Ah, yes. The Register told us to expect you."
"The Register?" Magda asked.
"Of course. Jubé keeps track of all her absent daughters." They all smiled at this and Magda smiled back uncertainly.
As if sensing her mood, Helena moved forward and embraced her. Her skin was lightly scented, only apparent when she was close. "We know this is hard. You are tired and unsure, but we are here to let you know that you are home now. Remember that you are soon to give birth. This is why Jube exists, why we all exist. We are here to care of you and make you happy."
Helena fetched up Madga's pack from the boat. The three sisters smiled at Magda once more, and the warmth and welcome that shone from them were so genuine, so enveloping that Magda felt all her unease melt away. "Thank you," she said. "Thank you so much."
Elena and Lena each took one of her arms and Helena led the way up the beach, to where a break in the palms hid a path through the forest.
"The town is not far," Lena whispered. "We have a lovely place prepared for you."
"And a deep, deep bath," joined Elena, giggling.
Magda sighed. Amongst the hazy memories of her childhood, she remembered what a bath felt like. Her back ached; her shoulders ached. It was all she could want. The girls talked of nothings and laughed as they walked together.
The path broadened to a track following a natural gully under palm leaves that scattered sunlight into shifting patterns on the ground and on the faces of Magda's companions. Streams gurgled away in the undergrowth and parrots squawked in the trees, brilliant flashes of colour when they moved.
After a little way, the track forked, one arm turning away to follow where Magda imagined the coastline curved. They continued on inland, with one or other of the girls continuously pointing out things of interest, a huge nest of wattle built between two thick branches, the tracks of a wild fawn, a trunk shaped like the contours of a woman's body.
"You'll be home soon," said Elena, squeezing Magda's arm.
Home is with Ox, Magda thought, but she was too exhausted to feel any affront. She supported her swollen belly with her hands and tried to keep her breathing steady. She felt the child kick in her womb.
The trees began to thin. Magda smelled wood smoke before she caught her first sight of the town. She realised she had formed vague expectations derived from her memories of a homely collection of wooden huts, smoke curling from conical roofs and chickens running in the streets. This was something much more grand. She gasped.
"Welcome to Jubé Town."
The forest track ended in a wide avenue paved in flagstones worn smooth by the wheels of carts. Evenly spaced palms cast shade on the fronts of tall villas that rose on either side, their walls draped in climbing plants and flowers. The stone of the buildings gleamed in white and pink.
Knots of women gossiped in the sun. Women in work clothes guided carts laden with vegetables and stone along the thoroughfare. Women walked under parasols along the pavements, all in gowns like the three sisters'. They smiled and nodded when they saw Magda, as if they knew her. They had been like her, once.
A square at the confluence of four avenues centred on a large bronze fountain sculpted into the form of a naked woman with others worshipping at her ankles. Water poured from her mouth and cascaded over her breasts to pool at her feet.
"Our Goddess," said Lena. She scooped and handful of water from the fountain and drank. "Your Goddess."
Magda splashed water on her face gratefully and looked around her at sculpted facades, relishing the peace of the place. She had never imagined somewhere like this, houses as tall as Ox's head, so many people, though they still seemed sparse on these broad avenues. "Am I to stay here?" she asked in wonder.
"Of course," said Helena. "We all stay here. Your quarters are just down here."
A narrower street took them to a wooden door that opened onto a cool hallway with high ceilings and marble stairs leading upward.
"These will be your rooms," Elena said, opening a door to the left. There was no lock.
"It's huge!" There were chairs and tables and a chaise longue set before a fire burning in a grate, a stove and a dining area. She could see a large bed through an archway that led off to the back of the room. A steaming bath that stood on clawed feet beckoned to her from an alcove. She turned to the others. "Thank you for being so kind to me."
The three embraced her in turn. "You are our sister. How could it be otherwise?" Helena said. "We'll leave you now. Rest. Enjoy."
As Magda lowered herself into the bath, tiredness overwhelmed her. Her long journey on the sea, so much new to take in and understand, the weight of her belly, all of it had drained her reserves, physical and mental. The water was hot, heated from a fire below, perfumed with oils. She thought of the words of her new friends. Your home, your island, your Goddess. She frowned a little, troubled. What of Ox? But the water felt so good. She closed her eyes and sank lower.
#
Pain burst. Magda screamed. Then it subsided, a false promise, only to rise again, washing over her like the tide. She gripped Helena's hand like it was flotsam after a shipwreck and yelled again. She shouted his name, "Ox, oh Ox!"
"Shhh, we're here. Your sisters are here. Now, again!"
Magda was propped spread-legged on her bed while the others attended her. Four hours! Four terrible hours.
"You're there. You're nearly there. I can see her head," Elena cried from the end of the bed.
Pain consumed Magda again. Sweat stood out on her reddened forehead. She ground her teeth and sought to share some of her agony through the grip of her hand. One huge effort more. She felt something move within her and, through the pain: relief, even a little joy. "Is it . . . is it?" she gasped, mouth dry.
"Take this," said Helena, extracting a bruised hand from Magda's. She passed her a glass and she drank deeply.
Elena smiled at her and drew up a bundle. She saw only a sliver of wrinkled pink flesh among the swaddling and then a flash of sea green eyes, staring at her. "Can I see?" Magda croaked. She was so tired. Always so tired.
Helena pressed the glass to Magda's lips. "Here." She swallowed. A little dribbled down her chin. She tried to hold out her arms, but they were too heavy. Heavy as her eyelids. "Our little one," she murmured. Her eyes fluttered and her head rolled forward on to her chest.
Today was a workday. The women worked hard in Jubé Town, in the fields, carting stone from the mountain quarries, grinding wheat, a hundred chores that meant the town remained a pleasure for all.
Magda's friends had nursed her through her illness, but now she was well again and it was her turn to contribute to the work of the town. Lena took her to a bakery where she would learn to make the flatbreads that were eaten with every meal under the tutelage of an older woman named Cedrine. The work was hard, but she enjoyed it and at the end of each day she returned to her apartment exhausted but happy.
As they worked over the rolling tables and the barrel-shaped stone ovens where they baked bread, Cedrine told her of the world and of the Goddess. Magda understood that this was not just conversation to fill the air and the hours, but an education. Magda did not mind. She wanted to understand her life, not drift through it. An education had its own fulfilment, although not the same fulfilment she had felt with Ox. She had felt that in her bones and her heart. But Cedrine's stories were fascinating and new, and the older woman was patient and kind. She guided rather than instructed. Sometimes Magda would catch Cedrine looking at her, and the expression on her face held so much compassion that it almost edged on grief.
"The Goddess brought order to the world. She put an end to the turbulence of all history," said Cedrine. "The blood of centuries was washed away when the Goddess caused the seas to rise."
Magda learned that in years lost in centuries past, men had spread out across the world in vast armies, had filled up all the spaces and fought over them. Time before the Goddess was only war and blood. Men dedicated themselves to their art. They achieved great things in the name of war, built great engines and mighty fortresses to prosecute their lusts and consolidate their ever-disputed borders. They flew in the air and the rain of those days was made of metal. The world became stained, and men pounded at it even as they elevated themselves to gods.
But then the Goddess came, finally woken from her chamber at the centre of the world by the pain in the very earth itself. She saw these men-become-gods, their cruelty and endless ambition, the gardens of her world shattered for a slight of one lord's pride or the violation of an arbitrary border. The Goddess was angry. The ground shook and the skies fell. The rivers swelled and the seas surged. Water cleansed the world of the stains men had marked on its surface. And finally, the Goddess had taken these men who had made themselves gods and gave them the stature and immortality they had always sought. You only had to look out from the shore to understand the truth.
"These are the giants of the sea, the last men fused to the bedrock beneath the waves, fed by the blood of the world itself. They look out over what was once theirs and see only the peace of the waves. They will never rule again."
"But Ox would never hurt anyone," Magda protested.
"Of course not. The Goddess would not allow it. We are all protected by her."
This all swam in Magda's head. Sometimes it hurt just to think about it too hard. Ox had been so gentle, so sad. How could all these terrible things be true?
"Look at Jubé and all we have here, " said Cedrine. "Look at all you have now. The Goddess has provided for us, and the women of the island in turn provide for each other. This is how we live in peace with the world. How could things be otherwise?"
s
"Let's celebrate," Helena said when the three sisters came to see her at the end of her first working week, and they took her out to eat at one of the cafes just off the Square of the Goddess.
"This could be one of yours," laughed Elena, as she dipped a piece of flatbread into a rich tagine of lamb and barley.
"No," giggled Magda, "it's not falling apart in your hands!"
They drank wine from grapes grown on the sides of the mountain and laughed with other women they knew. Everyone knew everyone, in Jubé Town. Perhaps they drank too much wine, or just enough, for when Helena walked her back to her rooms, it seemed right to invite her in. They shared the last of a bottle that Magda had brought from the cafe. It seemed right when Helena kissed her. The feel of Helena's body under her hands felt right, and Helena's hands on hers. Their robes pooled on the floor. Soft lips and tongues, searching, and a shuddering pleasure she had never felt before, exploding at the very centre of her. The night seemed to melt away.
She dreamed. Salt air, the cries of gulls, the taste of the sea. And a low rumbling voice like distant thunder, resonating in loss. Soft lips on her cheek and down, down deep. Light broke over her like a wave and it was not the light of the sun but the light of sea-green eyes.
She awoke coughing, choking. Her face was wet and her naked body was covered with sweat. Ox's face loomed large in her mind and she pulled the crumpled sheets about her. Light streamed from the windows. She was alone.
When her breathing steadied, Magda padded across her beautiful apartment and drank a glass of water from the basin to clean away the tastes in her mouth. She made herself busy on the supposed day of rest. She cleaned and washed and scoured and tried not to think about Helena and Ox and the Goddess. But when she slumped into her bed at night, it was like one of the ancient wars was sparking in her mind. When finally she did sleep, the sea-green eyes were waiting for her again. Memories.
"You look exhausted, child," Cedrine said when she saw Magda. "Perhaps you should go home and rest. You'll make yourself ill working all day."
"I don't want to sleep," Magda snapped, hoping anger would giver her strength. But tears welled in her eyes and she put up her hands to cover them. She could not hide the sob that escaped her, or the shaking of her shoulders. Cedrine sat her down and shooed the other girls away.
"What is it?" Cedrine whispered, holding her tight. "What is it?"
Magda took deep, shaky breaths as she tried to calm herself. "Why are you older, Cedrine?" she asked at last. "Why is everyone else in Jubé Town like me? Everyone is young here, except you."
Cedrine laughed, but Magda felt her withdraw slightly from their embrace. "We can't all be young and beautiful."
"There's another place on Jubé, isn't there? I remember women like you, older women. You looked after me, before I went to stay with Ox, when I was young." Magda stared at Cedrine, who thinned her lips and sighed, but did not look away. Her eyes held that combination of compassion and pain she had noticed before, and Magda thought she understood, as she thought she was beginning to understand other things. "I remember being brought up on the island. It comes in sparse pictures, but I remember it. I remember being a child. Cedrine, I remember children."
Cedrine could hold her gaze no longer. When she looked away, a sob of her own escaped her lips. "It's too soon," she said, more to herself than Magda.
"They took away my child, didn't they?"
A nod. Cedrine wiped away tears.
"That night . . . It hurt so much. How could I forget? How could you let me?"
Cedrine cleared her throat and pushed grey hair from her watery eyes. "A drug. They call it the Goddess' Peace. Understand that Jubé is the Women's Isle. It's our paradise, a reward for all those years at sea with the men. A child would not let you forget the past. Jubé's way maintains the cycle. We persist, the women are happy here. We are at peace."
Magda's anger broke open inside her. "I am not at peace," she shouted. "My head aches with it all. The memories . . . I was frightened. I thought they had happened to someone else! I don't know who I am now. Were you ever going to tell me?"
Cedrine put a hand on her arm but Magda tore it away. "Try to be calm, Magda. Everyone remembers in time. Goddess' Peace isn't permanent. It's only meant to help new arrivals adjust."
"While they're educated, while they get comfortable in their nice apartments with their scented baths?" Magda hissed. "While they're seduced by Helena? Did you know about that?"
"No!"
Magda stood, face flushed. "Nobody's mind is their own in this world! I never thought about anything I did since I was born, did I? It's all set out in advance. You stole my baby. You took her away from me. You took Ox away from me! I love him."
"Believe me, I understand." Cedrine looked up at her, imploring. "I had to move away from the other side. I couldn't bear to bring up the little ones like the other older women. It hurt too much. My own child --"
"But you still let it happen. It's awful! You let her go, even after you remembered. And now you're helping it happen all over again."
Magda turned and ran from the bakery, down the broad, paved boulevards of Jubé Town, past the statue of the Goddess with her entwined female worshippers. Beautiful young girls in coloured robes, mothers all, watched Magda run, hands over their mouths at the expression on her face. She came to the end of the town and kept going along the road through the forest until at last she came to the beach where she fell on the sand.
She cried out, "Ox, I'm sorry, I'm sorry. I love you."
She was still there when they found her.
It was Helena, Elena and Lena who brought her back, but Magda wouldn't speak to them, wouldn't let them touch her. In the end, they escorted her back to her rooms and told her to sleep.
Two muscular women she recognised as quarry-workers were stationed outside the main door to the apartments. Guards! What did they think she was going to do? Well, she knew exactly what she was going to do, all in a flood of certainty.
Two hours after dark, Magda crept from her rooms and up the stairs to the second landing where she opened a window that looked out on to the backs of other buildings and a square of garden. Tough creepers grew into the walls and it was a simple thing to swing her body out of the window and climb down. She paused at the back of her building to listen, but there were only Jube's familiar night sounds, the chirrup of insects and a light breeze that sounded like the sea. It seemed the women of Jube were unused to keeping prisoners physically restrained. The shackles here, Magda thought bitterly, were of a more insidious kind.
She made her way out of the town using back alleys and climbing fences between gardens. Once she thought she heard a shout, but as she froze frightened in the shadows, she realised the sound had carried from an open window, female cries that she did not care to listen to. Magda went on, making her way finally towards the beach. It took only minutes to find the fork and to turn along the road that must lead to the other side of the island.
The trees crowded close by the edges of the path and the night sounds that had comforted her in the town were amplified here, such that they seemed directed at her, screaming an alarm. Magda hurried at the margins of the road despite the looming shadows, eyes darting in fear at each fresh cry from the undergrowth.
But in time she settled into a rhythm even here. She discerned no signs of pursuit and the moon was bright above the treetops, casting everything in silver ghost-light. Her anger burned in her breast like an engine, blood thrummed in her ears. Memories they had tried to excise from her were returning. She grappled them like hot coals, bright but searing. She saw the sea-green eyes of Ox, those he shared with their daughter. They drew her on.
Magda imagined she knew something of her destination. Logic told her it was the place of her early childhood, before she had gone to the ocean and found love. It was a girl-crèche, a teaching place where the stolen daughters of Jube were groomed for the men of the world. She could not quite remember it as a place full of children, because she had been one herself, but she knew that was where her child was, and where she must go.
The sky was showing the faintest signs of day when the road reached the shoreline. This side of the island was protected by ragged ramparts of rock around which seabirds wheeled and called and plunged into the frothy sea in search of fish. Magda left the road and made her way carefully along the cliff tops using only the faded maps of memory. A little way back inland, huddled under an outcrop of limestone, was a collection of long wooden huts and stone cottages with conical roofs. This place had not yet begun its day, but Magda remembered that her childhood days had not been filled with lazy mornings. She knew she must hurry.
She stole among the buildings, bent low, heading for the larger dormitory huts. The doors were latched on the outside but not locked. She eased open the first door and peered inside. It was dark, but as her eyes adjusted, she saw rows of small beds, each with a sleeping form--little girls, perhaps ten or eleven years old, with their hair spread out on rough cloth pillows and eyelids fluttering in dream. Magda's eyes widened, tearful, but she left quickly. How could the women of Jubé Town deny themselves this? How could it be right?
The next few dormitories held children of decreasing age but led deeper into the village. A cock crowed in the half-night. She saw the flare of lamplight in the window of one of the stone cottages nearer the cliffs, but Magda knew she must not stop. She lifted a latch and stepped inside the last hut.
It was warm inside. Coals glowed orange in a stone fireplace behind a metal guard, but Magda stared elsewhere. Set along the walls were some two dozen cots filled with sleeping infants. She walked among them, peering at the tiny faces within, panic mounting in her belly. Some were more mature than others, it was true, but what did she truly know of children? Her daughter was in the room, she was certain, but which one? She had never been allowed even to hold her daughter before she was taken away. The cycle on Jubé was arranged so that no new mother ever knew her child. She sobbed. Where was her daughter? Where was Ox's daughter?
Then she knew how. She stood over one of the sleeping babies; one with tiny red hands curled into fists and a few wisps of hair on its scalp, and clapped. The infant twitched and rolled. Her eyes fluttered and then widened. Immediately, she began to cry.
Magda leaned forward in the dim light, despite the noise. The eyes were blue. The children were all waking now, wailing spreading among them like fire. Small lungs and throats were employed to full and deafening effect. Panicked, Magda ran among the cots, searching. Nothing was right. The sound in the dormitory was unbearable as Magda ran from child to child in increasing agitation.
And then there she was. Swaddled in white, bawling with the best of them, eyes open. Sea green. The beauty of the sea, the strength of her father. She lifted the child up in her arms and she stopped crying, held her eyes for a long moment, smiled and went back to sleep. Magda sobbed with relief.
Magda turned to leave, only to find the doorway filled with the shape of a stocky old woman in grey, a headscarf tied around a wrinkled face black with anger.
"In the Goddess' name what are you doing?" she thundered over the noise. "This is a nursery and you are most definitely not meant to be here."
Magda didn't think. "Oh yes I am," she yelled back and ran at the other woman, child still in her arms. Shocked, the older woman stumbled backwards, clearing a space through which Magda shot out into the dawn light. Looking around desperately to orient herself, she focused on the cliffs and ran. The woman's shouts echoed in her ears.
Other people were emerging now, all older women, Cedrine's generation. She wove among the huts, among enraged poultry and confused livestock. She ducked away from questing arms, knowing that the safety of her child provided her some protection. She would make it to the cliffs. There were stairs there, she knew. They led to a tiny harbour where those girls of age were sent out as wives, as she had been. Well, she would make that journey again, this time knowing what, and who, waited for her beyond the horizon.
Her thighs burned, the baby still slept in her arms, the cliff's edge rushed towards her.
And suddenly there was Helena, waiting for her, face unreadable and hair blown by the wind from the ocean.
"How did you know I'd be here?" Magda gasped.
Helena waved her hand in dismissal. "Where else is there? I came by carriage as soon as you were found gone. The timing is fortuitous, I see."
"I'm not going back to Jubé Town."
"I know what you want to do," Helena told her. She held out her arms. "It's crazy, Magda. The man won't care what you've done, he won't even notice. The men are like the mountains, Magda, they are part of the world but they don't understand it. They don't feel. The Goddess made them that way as their punishment. Their only function is to breed, you won't get anything more from them."
"You're wrong. I know that Ox feels, and now we have something together. We have a daughter and you wanted to take her from us."
"It is the cycle of the world. Without it Jube would not exist."
"Good!" Magda shouted. She was aware of children joining the watching crowd behind her. She turned to them. "Every one of you has a real mother living just the other side of the island. You could walk there in a day, but you're kept from each other by lies and -- " She glared accusingly at Helena, " -- distractions. You are meant to be together." She held up her baby. "This is my child. I am her mother and I will not be parted from her again."
Magda turned and advanced towards Helena and the cliff.
Helena held up her hand. "You can't go any further. The Goddess forbids it."
Magda sneered at her. "Oh the Goddess, the Goddess. Well the Goddess is unjust and she will not bind me. I will jump from this cliff first, I mean it."
"And kill your child with you?"
"Rather that than she be lied to all her life, to be bred without choice or understanding. We are all worth more than your cursed cycle gives us, Helena."
Helena opened her mouth as if to argue, but then stopped. Her eyes searched Magda's face, her expression confused. "You are like a contagion on our island, Magda. I don't know if it's best to let you die or let you go."
"I won't be back," said Magda fiercely. The baby stirred in her arms. She looked down into her sea-green eyes. "Let this little one see her father."
Helena glared at her for a long time. Then she stepped aside with a show of forced good grace. "Never return," she spat.
The crowd sighed.
There were boats in the little harbour at the base of the cliffs. Magda could see them bobbing on the ocean swell as she descended the narrow steps cut into the stone. This thing was not done yet, but she knew she would finish it. She laid her baby safely in the bottom of the boat and pulled at the oars until she was far enough out to lift the sail. The she headed outwards to another island--to Ox, husband and father.
- END -